UPDATES: All you need to know about the party primaries
By Mike Ikenwa
---
---
It was an interesting and exciting party primaries acrross the country in the past few weeks. With over 14 million members confirming Buhari as the APC presidential flagbearer, to Atiku winning PDP ticket which is considered the toughest of all the primaries ever contexted in the history of Nigeria politics, you can be assured that 2019 race is going to be an interesting on.
There are going to to be lots of dramas and games ahead of the elections, but be rest assured that that Bloomgist's #Nigeria2019 page will get you all that you need.
See highlights of the the primaries as updated live by our team.
Thanks to everyone that contributed in making this report a lively one worth following. let's see you again.
---
Sunday, August 7, 2018 – Live [CLICK TO REFRESH]
---
13:58 – Wike congratulates Atiku
The Rivers State Governor, Nyesom Wike, left the venue of the Peoples Democratic Party convention before the convention ended.
Mr Wike left shortly after congratulating the winner of the party's presidential primary, Atiku Abubakar.
---
13:47 – Sunday's PDP 2018 National Convention is one of the most competitive since 1998 when the party chose Olusegun Obasanjo as its candidate. Mr Obasanjo went on to lead Nigeria for eight years starting in 1999, with Mr Abubakar as his vice president.
---
13:22 – Atiku's closest rival, Aminu Tambuwal, scored 693 votes while Senate President Bukola Saraki came third with 317 votes.
---
11:20 – Atiku Abubakar, a retired Customs officer and Nigeria's vice president between 1999 and 2007, has been elected the presidential candidate of the Peoples Democratic Party (PDP).
---
8:05 – APC Confirms President Muhammadu Buhari as the 2019 Presidential candidate for the party
---
Saturday, August 6, 2018 – Live [CLICK TO REFRESH]
---
14:01 – How the Federal Lawmakers are voting
---
12:58 – Some few things to note in the ongoing PDP presidential primaries in Port Harcourt – By Demola Rewaju
In terms of ground game – Atiku is solid: banners, posters, all that. In terms of Human Resources – Saraki's people are everywhere in their various colours of t-shirts so easily identifiable. Tambuwal though is very much in the air – very much.

What I mean is this: those pushing against Tambuwal on social media seem to have created an air of anointing over him and stray delegates seem to think he is the endorsed candidate.
---
11:10 – Here are things you may have missed from the previous days on the party primaries nationwide
In Lagos, A leading candidate of the opposition Peoples Democratic Party (PDP) in Lagos state, Jimi Agbaje, has won the party's primary in the state. Mr Agbaje polled 1,100 votes to defeat Deji Doherty, who polled 742 votes.
Senate President Bukola Saraki held a crucial meeting with National Assembly members of the Peoples Democratic Party. The meeting started at about 10:50 p.m. and is still underway as of 11:20 p.m.
In Imo state, Senator Hope Uzodinma has been declared the APC flag bearer for the 2019 governorship elections in Imo state
---
8:21 – It's the day to decide on who is going all out against APC and its candidate, President Muhammadu Buhari during the 2019 presidential
---
Wednesday, August 3, 2018 – [UPDATE]
---
8:43 – Lagos APC Guber primaries postponed for the 4th time
The confusion around the Lagos State All Progressives Congress (APC) primary took a turn for the worse yesterday as the exercise was postponed the fourth time in a week and indefinitely.
The bewilderment intensified with the showdown between the state chapter of the party and members of the National Working Committee (NWC) tasked with overseeing the poll.
---
8:42 – Akpan wins A'Ibom North-East PDP Senatorial ticket
A senator, Bassey Akpan, was on Tuesday declared winner of Akwa Ibom North-East Senatorial District primaries of PDP by Arthur Nwankwo, a member of the National Electoral Committee.
---
Tuesday, August 2, 2018 – Update
---
16:07 – In Bauchi: Gov Abubakar emerges Bauchi APC gubernatorial candidate
---
14:30 – Comment by Blackboy [@scephyb]
This is not about Tinubu or whatever people thinks it is, you can't belittle or downgrade party members, Tinubu was fought by lot of APC members when he anointed him, but Tinubu still stood by him, the party has spoken, learn to be humble when you have power
---
14:17 – Uche Nwosu, son-in-law to Rochas Okorocha, governor of Imo, has arrived at the APC secretariat.
---
14:16 – At Ward F2 and F3 in Surulere Local Government, voters declare support for Babajide Sanwo-Olu.
---
14:15 – In Lagos: The results from five wards in Amuwo-Odofin have been announced. Electoral officers from the remaining six wards are yet to arrive at the collation centre.
---
14:14 – In Imo: Despite Ahmed Gulak's disappearance, there are indications that the APC governorship primary will still hold, with the rest of the committee overseeing the exercise.
---
14:10 – In Cross River: John Owan-Enoh, senator representing Cross River central, has emerged as candidate of the APC for the 2019 governorship election.
---
13:35 – TINUBU: IT IS DEMOCRACY DAY FOR US
After voting at ward C, Alausa, Ikeja, Bola Tinubu said: "It is a democracy day for us. It is even beyond me as a leader. Whatever is happening today, I have to submit myself to the party wishes."
---
12:34 – Back to Lagos, in ward K, Amuwo-Odofin LGA, Ambode polled 40 votes while Sanwo-Olu had 126.
---
12:31 – Imo PDP Primaries: This is an unfair treatment, and I won't take it – Anyanwu
Bloomgist is getting the report that the senator representing Imo East senatorial zone, Samuel Anyanwu has released a statement, saying the outcome of the PDP Imo state primaries is an unfair treatment to him and his loyalty to the party, and will not take the result. Are we going to see the first fight at the cult from the Eastern Nigeria? Let's see.
---
12:30 – AMBODE'S DEPUTY: SANWO-OLU IS THE CHOSEN MAN
Idiat Adebule, Lagos deputy governor, has backed Sanwo-Olu over Ambode in the ongoing APC guber primary.
"The party has chosen a man and it is that man that I will support and follow," Adebule said while voting in Iba LCDA.
---
12:05 'STOLEN MANDATE' IN GOMBE
Jamilu Gwamna, a PDP governorship aspirant, has rejected the result of the primary election that produced Bayero Nafada as the party's governorship candidate in Gombe. He said his mandate was stolen.
---
12:01 – ANOTHER WIN FOR SANWO-OLU
In Lagos: Babajide Sanwo-Olu has won the primary in Agbado/Oke-Odo LCDA. He polled 13,380 votes while governor Akinwunmi Ambode had 115 votes.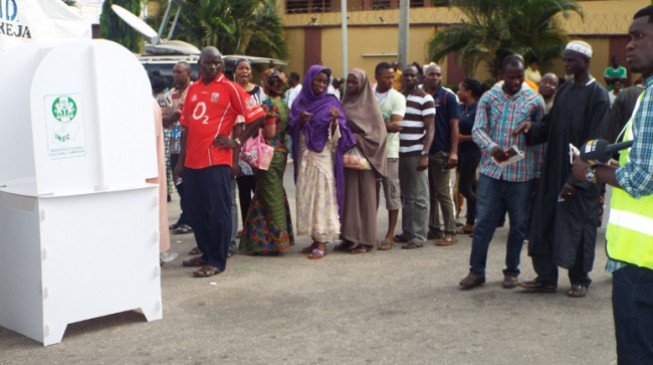 ---
9:43 – Ihedioha emerges Imo PDP governorship candidate
A former Deputy Speaker of the House of Representatives, Emeka Ihedioha, has emerged winner of the Peoples Democratic Party governorship primary in Imo.
Mr Ihedioha polled 1,723 votes to defeat the senator representing Imo East senatorial zone, Samuel Anyanwu, who came second with 1,282 votes.
Chairman of the primaries committee, Emma Nwala, who announced the result commended the party faithful for being peaceful throughout the exercise.
"I am most grateful to all security personnel for their commitment to the security of lives and materials all through the night and till this morning. Also, I thank all aspirants, delegates and officials for conducting themselves properly.
---
07:48 – Primary may be postponed again over disagreement
There are strong indications the Lagos State gubernatorial primary billed for today would be canceled a fourth time, as the election monitoring committee and party bigwigs in the state failed to agree on the mode of the exercise.
---
Monday, August 1, 2018 – Updates
---
States
APC
PDP
Abia
Okezie Ikpeazu
Adamawa
Ahmadu Fintiri
Akwa Ibom
Udom Emmanuel
Anambra
Bauchi
Abubakar
Bala Mohammed
Bayelsa
Benue
Borno
Babagana Umara-Zulum
Cross River
Ben Ayade
Delta
Okowa Ifeanyi
Ebonyi
David Umahi
Enugu
Ifeanyi Ugwanyi
Edo
Ekiti
Gombe
Imo
Jigawa
Badaru Abubakar
Kaduna
Nasir El-Rufai
Kano
Abdullahi Ganduje
Katsina
Aminu Masari
Lado Danmarke
Kebbi
Kogi
Kwara
Lagos
Nasarawa
David Ombugadu
Niger
Abubakar Bello
Umar Nasko
Ogun
Ondo
Osun
Oyo
Adebayo Adelabu
Seyi Makinde
Plateau
Simon Lalong
Jeremiah Useni
Rivers
Nyesom Wike
Sokoto
Ahmad Aliyu
Taraba
Ishaku Darius
Yobe
Maimala Buni
Zamfara
Follow the live updates on this and other primaries below;
---
16:28 – NDDC chief, Nsima Ekere, wins Akwa Ibom APC governorship primary
Nsima Ekere, the Managing Director of the Niger Delta Development Commission (NDDC), has been declared the winner of the governorship primary of the All Progressives Congress (APC) in Akwa Ibom State.
The primary, conducted on Sunday, had a former minister of the Federal Capital Territory, John Udoedehe, a former NDDC MD, Bassey Dan-Abia, and a businessman, Edet Effretuei, contesting against Mr Ekere.
The Chairman of the primary committee, Yamah Momoh, who addressed the press on Monday at the state secretariat of APC in Uyo, said Mr Ekere emerged the winner, having scored the highest number of valid votes among the aspirants.
Mr Momoh said the primary was generally peaceful, free and fair across the state.
"The original result sheets and all other election materials were released to all the 31 local government areas," Mr Momoh said, adding that election did not take place only in Uyo local government area.
---
16:24 – Nuhu Ribadu has indicated interest to participate in the rescheduled Adamawa APC governorship primaries election, hours after he withdrew from the race.
Salihu Bawuro, the Director-General, Ribadu Campaign Organisation, made the announcement at a news conference in Yola on Monday.
The state APC governorship primary is rescheduled for Thursday.
---
15:05 – There are rumours that The All Progressive Congress (APC) is conducting its primaries in some areas, but decided to keep the public out of it.
So speculations are on going that @APCNigeria is conducting its lagos state primaries in some areas like ketu and Mushin even though the official primaries was once again postponed till Tuesday. Nigeria is just a funny country #LagosAPCFraud

— Top Influencer (@Viralcified) October 1, 2018
So someone just said that APC primary election is holding now in some areas, I thought the election was postponed till tomorrow? What kind of country is this where democracy and justice doesn't mean anything #LagosAPCFraud

— Top Influencer (@Viralcified) October 1, 2018
---
14:50 – JUST IN: Isah Mohammad Ashiru beats former Gov Ramalan Yero, serving Senator Othaman Hunkuyi and 8 others to clinch the PDP ticket in kaduna state. Ashiru will contest for the apex seat in the state with the incumbent governor, who also won his party ticket yesterday.
---
14:47 – We are starting with the news of the postponement of the APC Lagos governorship primaries which is making it the second time.
It was scheduled to hold today, Monday, by a fresh statement from the party's National Working Committee said it has been shifted to Tuesday. Could this be a way of giving Ambode a chance to right his wrongs to avoid being disgraced at the primaries like Tinubu said, or an opportunity for Jagaban to reconsider to avoid losing Lagos, his strong? We are here to see it all out.
---
14:40 – Welcome to the live update of the election primaries ahead of the 2019 general elections.
It is all going to be fun, hot, intriguing and whatever else in between as we gear up to find out who is finally going to run against who and who is going to get the party tickets to represent in forth coming general elections.
Hang on, we have a whole lot coming you way
Mike Ikenwa is my name, and here we go!