Residents of Abule Ado, in Nigeria's commercial capital, Lagos, have been hit hard by the ongoing lockdown after their houses were destroyed in an explosion in March, caused by a lorry hitting some gas cylinders.
The homeless people have had to sleep outside or in crowded houses disregarding advice from the World Health Organization on social distancing to prevent the spread of coronavirus.
Lagos, which has reported the highest number of coronavirus cases in the country, is on a two-week lockdown imposed by President Muhammadu Buhari to reduce its spread.
Peace Dim, a young mother of two whose house was destroyed in the explosion, has been living in a crowded house with other families that were affected.
Social distancing is not an option for her as it is more important for her to have a roof over her children's heads.
"In this house now, we have three married men whose wives are squatting elsewhere, two bachelors, a spinster, including myself, my children and a friend's child. The son of the man who owns the house is also here," she said.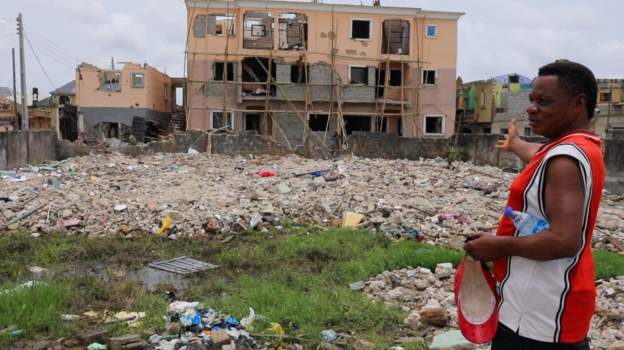 Joseph Ojukwu was a landlord with six apartments and six shops blocks but now he lives in a friend's house.
"I now sleep on a friend's couch," Mr Ojukwu said..
He was forced to send his wife and children back to the village to avoid overcrowding his friend's house.
There are 254 confirmed cases of Covid-19 in Nigeria and there have been six deaths caused by the virus.